Chef Fred's Pommes Anna
Ingredients:
1 lb purple yams (ratalu)
1 lb orange yams
1 lb gold potatoes
4 oz melted butter
1 oz olive oil
1 tbs fresh chopped thyme
1 tbs fresh chopped sage
salt and pepper
Instructions:
Preheat oven to 400°.
Peel all potatoes and slice to 1/16 of an inch .Tip - use a mandolin for the best consistency.
Add a mixture of butter and olive oil to a cold, oven safe, non-stick 12 inch pan.
Arrange potato slices in concentric circles (you pick the pattern of colors) in the bottom of the pan.
Sprinkle butter and oil mixture, 1/3 of the herbs, and salt and pepper to taste, to cover the first layer of potatoes.
Repeat this layering, two more times, for a total of three layers of potatoes.
On a stovetop, heat over a medium flame until potatoes start to sizzle.
Cover and place in oven for 25 minutes.
Remove cover, bake for another 20 minutes or until potatoes are tender.
Remove from oven, let cool slightly.
Flip pan over onto a cutting board or platter (this is going to be hot) and cut into sections.
You may also like
Chef Fred's Potato Dauphinoise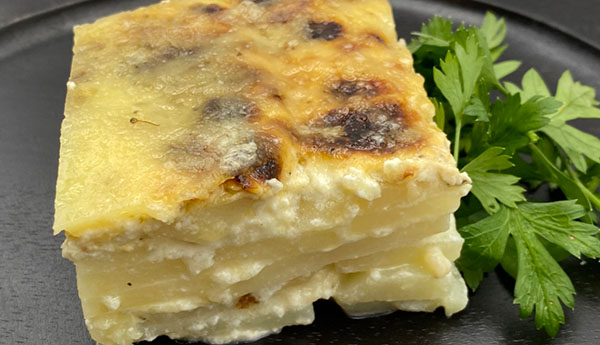 Chef Fred's Ham and Sweet Potato Hash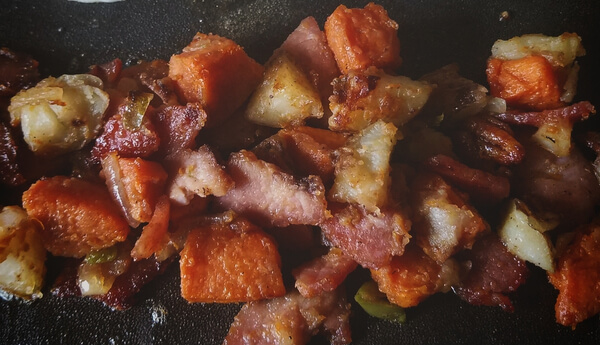 Chef Fred's Roasted Sweet Potato and Brussels Sprouts Hash