Blueberry Lemon Fruit Leather
Ingredients:
Homemade fruit leather makes a great natural snack. This version combines fresh blueberries, lemon juice and lemon zest for a delicious berry-citrus flavor. It takes a while to prepare, but the process needs little attention as the fruit dries in a warm oven.
3 cups fresh blueberries
zest of 1 lemon
juice of 1 lemon
1 to 2 tbs of sugar to taste (optional)
Instructions:
Heat the oven to 170 degrees F. Line a baking sheet (about 17 x 11 inches) with a silicone baking mat, microwave safe plastic wrap or parchment paper.
In a blender, puree the blueberries, lemon juice, lemon zest and sugar (if using) until smooth, about 30 seconds.
Pour the puree onto the lined baking sheet. Use an offset spatula to spread the puree in an even, thin layer.
Place the baking sheet in the oven and dry for 6 ½ to 7 hours. The fruit leather is done when it is firm, no longer sticky and can be pulled away from the lining of the baking sheet. Let cool completely.
Pull the fruit leather away from the pan liner. Cut into 16 pieces and serve.
SERVINGS: 16
TIME TO TABLE:
10 minutes prep, 7 hours drying.
Recipe courtesy of Wonderful Citrus.
You may also like
Candied Lemon Peel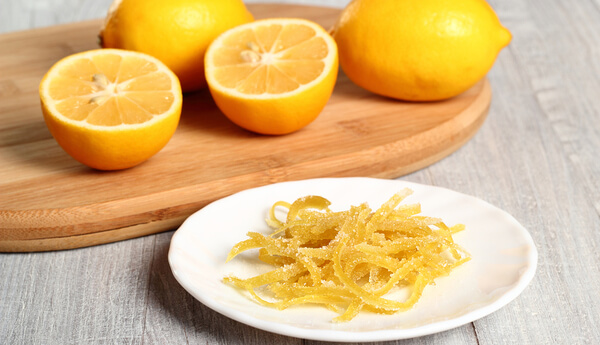 Strawberry Crepes with Greek Yogurt Creme