Chef Fred's Succotash
Ingredients:
1 medium onion, diced
2 small red bell peppers, diced
4 ears of corn, shucked and cut from cob
1 lb fava beans, blanched and shucked
8 oz bacon, diced small
1 zucchini, diced
8 oz cherry tomatoes, halved or quartered depending on size
1 bunch parsley, chopped
½ tbs fresh sage, chopped
½ tbs fresh thyme, chopped
1 clove garlic, chopped
2 oz bourbon
salt and pepper
Instructions:
In a large sauté pan, cook bacon until rendered and crispy.
Remove bacon from pan, leave fat.
Return pan to heat and sauté onions, peppers, and garlic until onions are translucent.
Add corn, zucchini, and bacon to pan and cook until zucchini starts to soften.
Add fava beans, tomatoes, herbs, salt, and pepper.
Deglaze with bourbon (take off the flame before doing this or else you'll burn your eyebrows off).
Adjust seasoning and serve.
You may also like
Chef Fred's Fresh Corn "Slaw"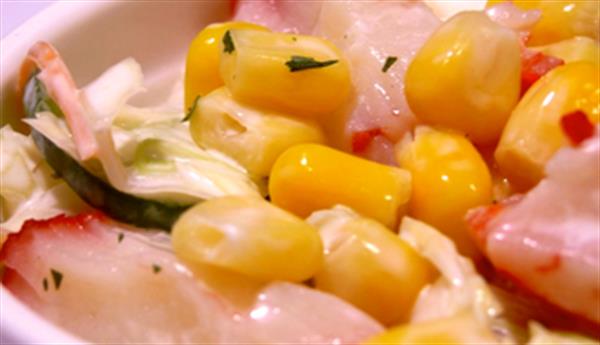 Italian Green Beans