Bouillabaisse
Ingredients:
2 tablespoons vegetable oil
1 large onion, diced
2 garlic cloves, minced
2 cups chopped Roma or vine-on tomatoes
1 bay leaf
1 cup white wine
1 (6-ounce) can tomato paste
1 tsp salt
1/2 tsp crushed saffron threads
1/4 tsp thyme leaves
16 ounces cod or other white fish fillets, cut into 1-inch chunks
8 ounces medium shrimp, peeled and de-veined
1 (10-ounce) can whole baby clams
2 tbs fresh chopped parsley
crusty french bread
Instructions:
In 5-quart saucepot over medium heat, in hot oil, cook onion and garlic until just tender, stirring occasionally.
Add tomatoes with their liquid, bay leaf, white wine, tomato paste, salt, saffron and thyme. Over high heat, heat to boiling; reduce heat to low; cover and simmer 15 minutes to blend flavors.
Add cod, shrimp and whole clams with their liquid; over high heat, heat, heat to boiling. Reduce heat to low; simmer uncovered 5 minutes or until fish is cooked, stirring occasionally.
To serve, sprinkle bouillabaisse with chopped parsley. Serve with crusty French bread.
Content courtesy of FruitsAndVeggiesMoreMatters.org.
You may also like
Moroccan Tomato Soup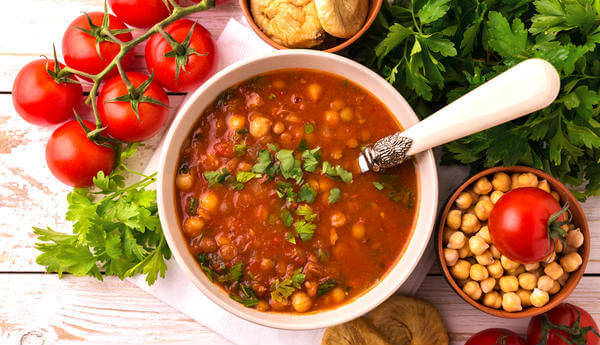 Creamy Cucumber Soup with Avocado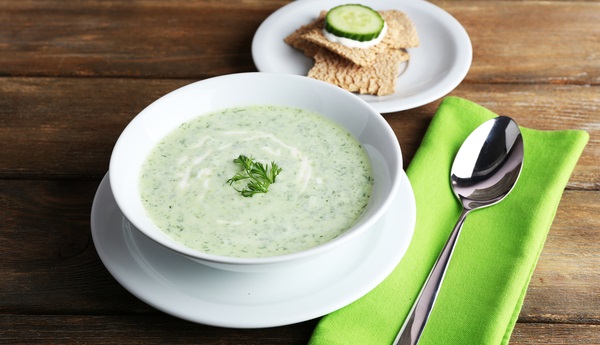 Avocado Soup