Moroccan Tomato Soup
Ingredients:
1 large onion, chopped
6 cloves garlic, minced
2 tbs olive oil
½ tsp sea salt
⅛ tsp cayenne pepper
1 tsp sweet paprika
½ tsp ground cumin
3 tbs honey
½ tsp ground cinnamon
5 fresh Roma tomatoes, diced
4 cups water or no salt added chicken stock
¼ cup fresh dill
½ cup fresh parsley
¼ cup Balsamic vinegar
4 ½ cups cranberry beans or garbanzo beans, already cooked without salt
5 ounces baby spinach
fat free sour cream or plain yogurt (optional)
Instructions:
Sauté onion and garlic in olive oil over medium heat until onion is translucent.
Add salt, cayenne pepper, paprika and cumin. Sauté 1 minute.
Add honey, cinnamon, tomatoes (fresh and can), water (or chicken stock), dill, parsley, Balsamic vinegar and beans. Stir well.
Simmer 45 minutes. (If thicker soup is desired, use potato masher to mash some of beans after soup has simmered 30 minutes.)
Stir in spinach and heat just until wilted, 2-3 minutes.
Top with fat-free sour cream or plain yogurt, if desired.
Recipe adapted from content provided by FruitsAndVeggiesMoreMatters.org.
You may also like
Strawberry Soup with Ginger and Mint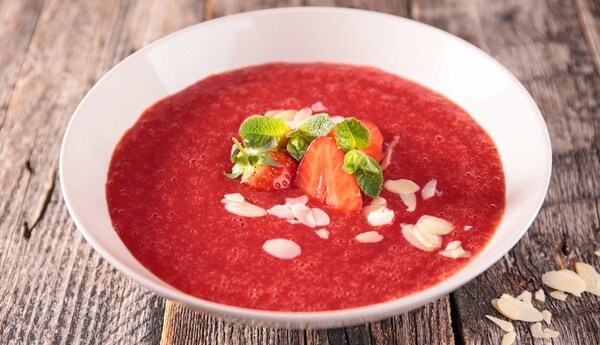 Avocado Soup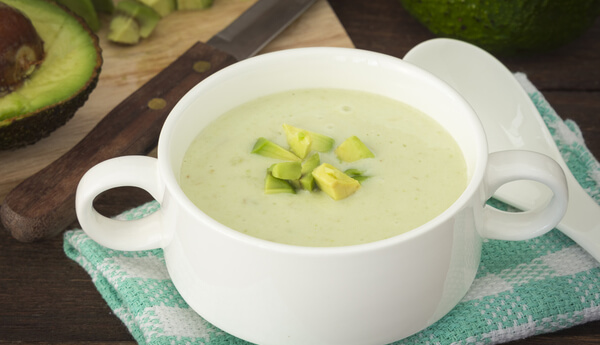 Creamy Cucumber Soup with Avocado