Coctel de Mariscos
Ingredients:
fresh lime juice as needed
kosher salt as needed
2 avocados diced or sliced into rings
6 shrimp grilled and chilled
6 lime wedges
6 cilantro sprigs
1/2 lb white fish (such as cod, sole, rockfish, tilapia, pollock, or a combination), diced small
1/4 cup fresh lime juice
1 cup seeded and chopped tomato
1/2 cup cucumber peeled, seeded, finely diced
1/2 cup red onions finely chopped
1/4 cup fresh cilantro chopped
1 tsp jalapeño minced
1 tbs ground cumin
Instructions:
Combine fish and lime juice in bowl, toss well, cover and chill for at least 30 minutes or until fish is white throughout. Remove from refrigeration, place in strainer and drain off lime juice, then press gently on fish to squeeze out any additional lime juice. Place drained fish in bowl, add all other ingredients and fold to incorporate and mix well. Cover and hold under refrigeration until needed. Best used the day the ceviche is made. Discard after 2 days.
For each serving, dip rim of martini glass into lime juice. Dip rim of glass in salt, as for a margarita. Place ½ cup ceviche in glass. Top with avocado and shrimp and garnish with lime wedge and cilantro sprig.
Recipe courtesy of Avocados From Mexico.
You may also like
Peach Steak Sauce
Italian Salsa Verde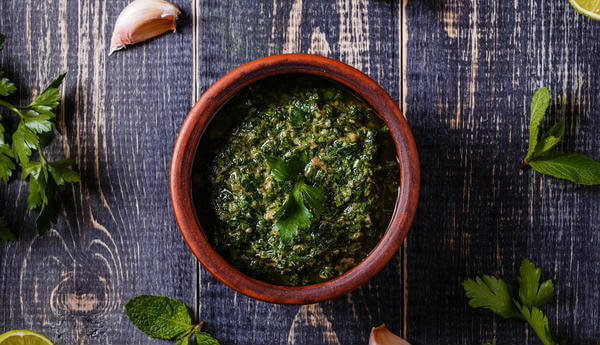 Shakshuka