Creamy Avocado Pasta
Ingredients:
16 ounces spaghetti
2 medium avocados, diced
1/2 cup fresh basil leaves
2 cloves garlic
2 tbs lemon juice
1 tsp of lemon zest
kosher salt, black pepper, to taste
1/3 cup olive oil
1 cup cherry tomatoes, halved
Instructions:
In a large pot of boiling water, cook pasta according to package instructions; drain well.
To make the avocado sauce, combine ripe avocados, basil, garlic and lemon juice in the bowl of a food processor; season with salt and pepper, as desired. Slowly add olive oil to the food processor until well-combined.
In a large bowl, combine pasta, avocado sauce, lemon zest and tomatoes. Serve immediately. Fresh avocado sauce can turn Brown (oxidize) quickly. Serve topped with fresh basil leaves
* For a lighter option that is grain-free, serve the avocado sauce with homemade zucchini noodles in place of pasta.

Recipe courtesy of Avocados from Mexico.
You may also like
Brussels Sprouts Pesto Pasta
Broccoli Penne Pasta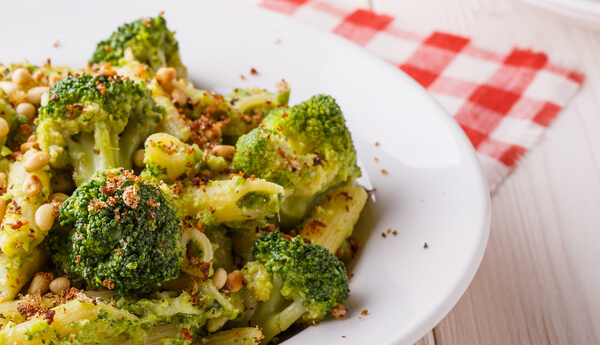 Greek Zoodles