Grilled Cobb Salad Boats
Ingredients:
Try this little twist on the protein rich classic.
For the dressing:
⅔ cup canola oil
¼ cup olive oil
¼ cup red wine vinegar
1½ tbs fresh lemon juice
¾ tsp dry mustard
½ tsp Worcestershire
¼ tsp sugar
1 clove garlic, minced
salt and pepper, to taste
For the salad:
2 hearts of romaine, cut in half lengthwise
2 tbs olive oil
2 oz. gorgonzola cheese, crumbled
6 strips cooked bacon, roughly chopped
1 cup cooked ham, chopped
2 hard-boiled eggs, quartered
2 medium tomatoes, seeded and cut into ½" cubes
2 boneless skinless chicken breast, cooked and cut into strips
2 avocados, peeled, pitted, and cut into ½" cubes
2 tbs minced chives
salt and pepper to taste
Instructions:
Make the dressing by adding the canola oil, olive oil, vinegar, lemon juice, mustard, Worcestershire, sugar, and garlic to a blender. Blitz until smooth. Season with salt and pepper to taste. Set aside.
Prepare all of the toppings for the salad in advance and set aside.
Heat grill or grill pan with medium high heat until hot. cut the romaine hearts in half lengthwise and brush the cut sides with olive oil. Place the romaine hearts on the grill or grill pan, cut side down. Watching carefully, cook for 2-3 minutes or until you have golden brown grill marks. Do not char the lettuce.
Place one romaine heart on each plate and top each with a quarter of each of the toppings. Drizzle with dressing or serve the dressing on the side.
You may also like
Taco Salad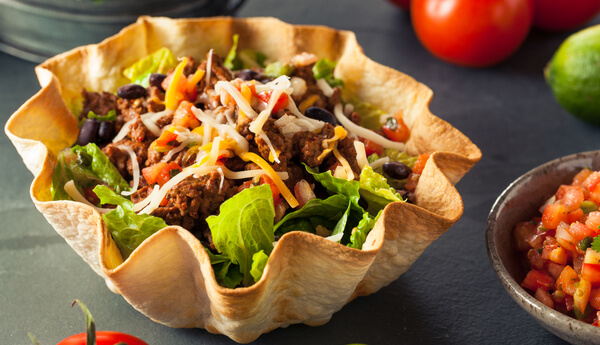 Broccoli Summer Salad