Kale and Lettuce Salad with Orange Vinaigrette
Ingredients:
This kale and lettuce salad is topped with a tangy dressing of orange juice and balsamic vinegar. It makes a great starter or side dish to any meal.
4 cups mixed lettuce
1 cup finely shredded kale
4 oz. crumbled blue cheese
½ cup pomegranate arils
½ cup walnut halves
¼ cup thinly sliced red onion
2 oz. freshly squeezed juice from a Wonderful Citrus orange
2 cloves garlic, peeled
2 tbs extra virgin olive oil
1 tbs honey
1 tbs balsamic vinegar
¼ tsp sea salt
Instructions:
In a large bowl, combine the lettuce, kale, blue cheese, pomegranate arils, walnuts and red onion.
Place the orange juice, garlic, olive oil, honey, vinegar and salt in the bowl of a small food processor. Pulse until all ingredients are finely chopped and a thin dressing forms.
Pour the dressing over the salad and toss to coat.
Garnish with orange slices if desired.
Divide into 4 portions and serve.
Recipe courtesy of Wonderful Citrus
You may also like
Dragonfruit Salad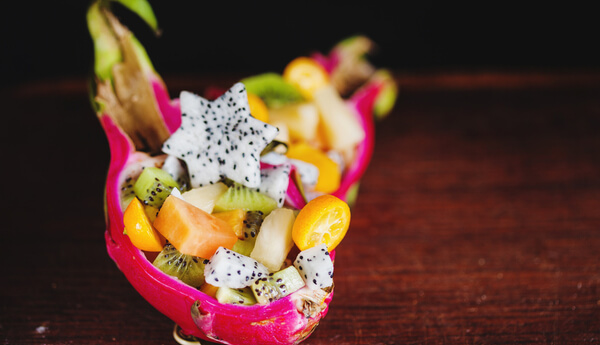 Classic Waldorf Salad