Sauerkraut...with a Kick
Ingredients:
Fermenting vegetables is pretty easy and has been done for centuries! There is a healthy and beneficial bacteria present on the surface of cabbages and when broken down and contained creates a natural fermentation process. Cabbage is well known to help with digestion and sauerkraut contains the same helpful probiotics found in yogurt.

Our spicy sauerkraut has a little kick and is perfect as a side or condiment on burgers and hot dogs.

Want something a little more traditional? Follow this same process below with just the cabbage and salt and add in a tablespoon of caraway seeds immediately before adding to the jar.

2 heads green cabbage
2 bunches green onions
1 large bunch cilantro
4 garlic cloves
1 chili pepper (jalapeno peppers work great but select a variety based on how spicy you want your sauerkraut)
1/2 tsp cumin
4 tbsp salt
You will also need:
clean mason (jelly) jar with air tight lid
pounding tool
Instructions:
Shred cabbage and place in a large bowl.
Dice onions and cilantro, mince garlic and chili pepper and add to cabbage.
Sprinkle cumin and salt into cabbage and mix well. Make sure that the salt is mixed throughout.
Use a pounding tool to break down the cabbage for about 5 minutes, the cabbage will release its liquid.
Place cabbage into the mason jar and add water if needed to make sure that the cabbage is completely submerged.
Let sit at room temperature for about three days. The longer the sauerkraut ferments the stronger the flavor will be.
Move to the refrigerator after opening.
You may also like
Shakshuka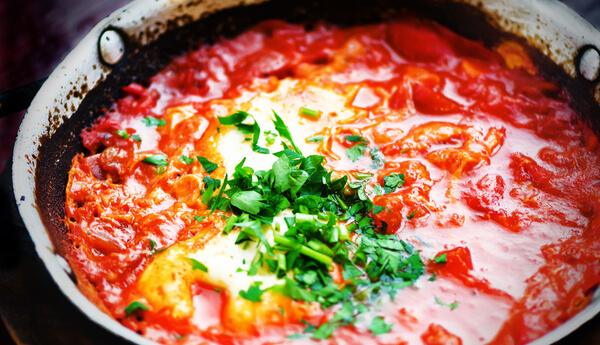 Kale and Lettuce Salad with Orange Vinaigrette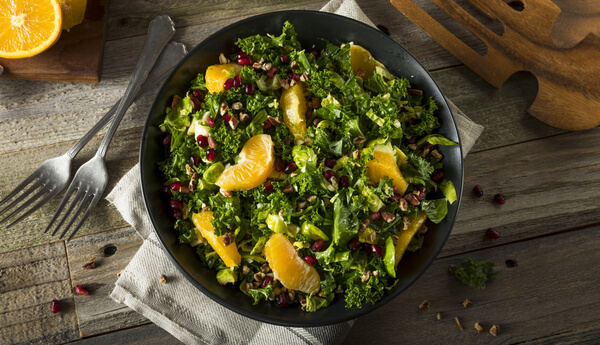 Red and Yellow Bell Pepper Omelet