Sausage and Apple Tortellini
Ingredients:
1 tbs olive oil
3 garlic cloves, minced
3/4 pound hot Italian sausage, casings removed if necessary
2 tbs all-purpose flour
1 cup chicken stock
3/4 cup heavy cream
1/4 cup apple juice
1 Michigan Gala apple, chopped
1 package (8 to 10 ounces) cheese tortellini
1 package (5 ounces) baby spinach
1/4 tsp kosher salt
grated Parmesan cheese and chopped fresh parsley, for serving (optional)
Instructions:
1. Heat oil in large high-sided skillet over medium-high heat. Add garlic and sausage and cook 6 to 8 minutes or until sausage is cooked through, stirring occasionally and breaking up sausage with back of spoon.
2. Stir in flour; cook 1 minute, stirring constantly. Stir in stock, cream and juice; heat to boiling over medium-high heat.
3. Reduce heat to medium; stir in apple and tortellini. Cook 3 minutes, stirring frequently.
4. Stir in spinach and salt. Cook 2 to 3 minutes longer or until spinach is slightly wilted and tortellini is tender.
5. Serve tortellini garnished with Parmesan cheese and parsley, if desired.

Recipe courtesy of the Michigan Apple Council.
You may also like
Brussels Sprouts Pesto Pasta
Broccoli Penne Pasta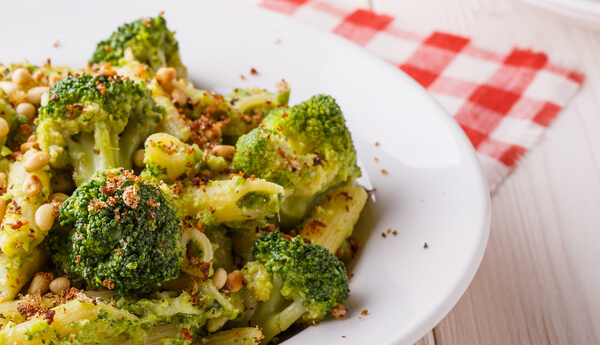 Creamy Avocado Pasta