Brussels Sprouts Slaw
Ingredients:
This delicious slaw is a fun twist on picnic food. Garnish with red cabbage for a little pop of color too!

1 lb. Gramma Jo's Brussels sprouts, washed, dried and trimmed
1 large or two small honey crisp apples, washed, dried and cut into wedges
3 oz. goat cheese, crumbled
1/2 cup toasted, slivered almonds

Dressing
1/2 cup extra virgin olive oil
1/4 cup apple cider vinegar
1 tbs Dijon mustard
1 tbs lemon juice
1/4 tsp kosher salt
1/4 tsp fresh-ground pepper
Dash of cayenne pepper
Instructions:
Shred Brussels sprouts in a food processor fitted with slicer blade. Switch to grater blade and shred apple wedges. Place in medium bowl.
Combine olive oil, vinegar, mustard, lemon, salt, pepper and cayenne in mason jar with tight-fitting lid. Shake to emulsify and add to bowl.
Toss sprout and apple shreds with dressing until evenly coated. Add goat cheese and almonds and continue to toss until goat cheese crumbles start to soften to create a slightly creamy texture.
Serves 4-6
You may also like
Jicama Slaw with Curry Lime Dressing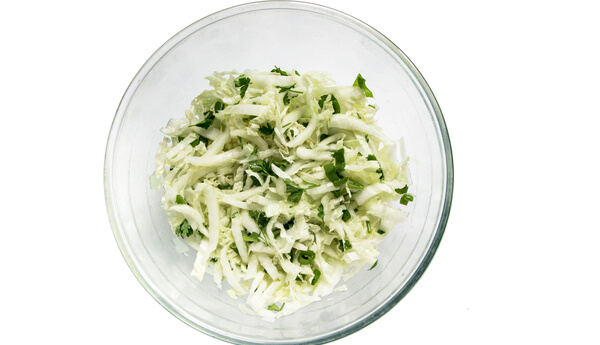 Kale and Lettuce Salad with Orange Vinaigrette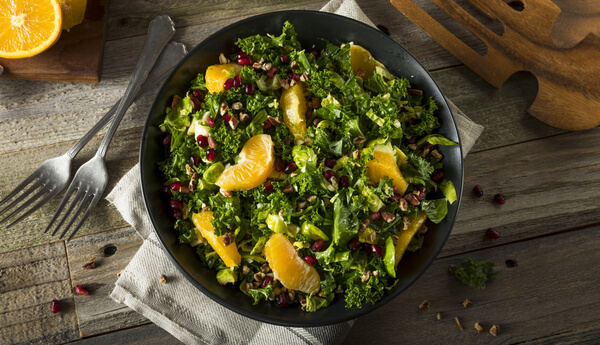 Classic Waldorf Salad