Caponata alla Siciliana
Ingredients:
This recipe is for a crowd, it serves about 8. Place leftovers in tightly sealed mason (jelly) jars and keep in the refrigerator, it will last for several days!

2 1/4 lb Italian eggplant
1 1/4 lb celery
2/3 lb Roma tomatoes
2/3 lb red onions
1/2 lb green olives
1 cup tomato sauce
1/3 cup white wine vinegar
6 oz. salted capers
6 tbs pine nuts
1 1/2 tbs fine cane sugar
olive oil
salt for eggplant (see preparation)
salt and pepper to taste
fresh basil leaves to garnish
Instructions:
Preparation
Dice eggplant, sprinkle generously with salt and place in a strainer. Place pie weights on top of eggplant and let drain for 15-20 minutes. Thoroughly rinse salt off eggplant and set aside.
Rinse capers well and set aside.
Drain olives and remove pits.
Strip celery and blanch, uncut, in lightly salted water for 5 minutes. Cut into bite size pieces and saute in oil for about 5 minutes and set aside.
Cut a small x shape in the bottom of each tomato then drop them into boiling water for one minute to blanch. Rinse immediately in cold water to help remove skins and chop.
Slice onions finely.
Assembly
Saute onions and once they have become translucent add capers, pine nuts, olives and tomatoes and cook for 10 minutes stirring occasionally and remove from heat.
Fry eggplant in batches.
When eggplant is done, remove from pan. Add tomato mixture back to heat, add eggplants, celery and tomato sauce and cook over low heat for 5 minutes.
Add vinegar and sugar, when vinegar has evaporated the dish is done! Add salt and pepper to taste if desired.
Serve at room temperature with fresh basil as garnish.
You may also like
Italian Salsa Verde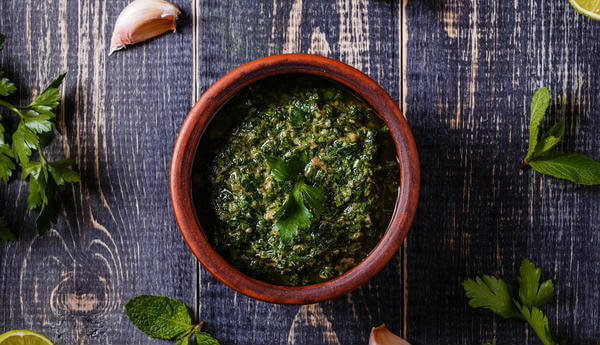 Roasted Broccoli Italiano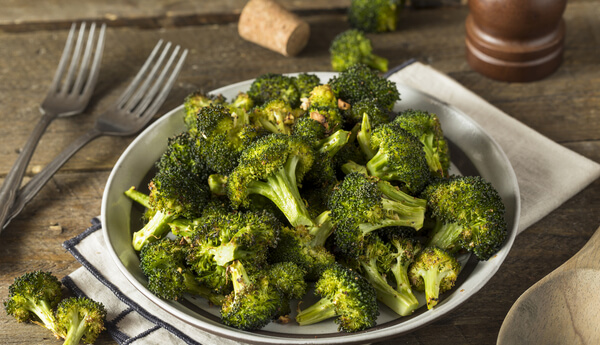 Italian Green Beans