Caramel Apple Pecan Cheesecake
Ingredients:
Crust Ingredients:
1 cup flour
1/2 tsp salt
3/4 cup pecans, ground
1/2 tsp cinnamon
3 tbs sugar
1/2 cup unsalted butter, softened
Filling Ingredients:
3 pkgs. (8 oz.) cream cheese
4 large eggs
1 1/2 cup light brown sugar
1/2 cup caramel sauce
2 tsp vanilla extract
1/2 cup half and half
1/4 tsp salt
1 1/2 cup Michigan Ida Red apples, cubed
Topping Ingredients:
4-5 Michigan Ida Red apples
1/4 tsp salt
1 tbs lemon juice
1/4 tsp nutmeg
3/4 cup light brown sugar
2 1/2 cup water
1/3 cup cornstarch
1/4 cup pecans
1 1/4 tsp cinnamon
1/4 cup caramel sauce
Instructions:
Crust Directions:
Mix the crust ingredients until crumbly.
Press onto the bottom and 1-inch up the sides of a lightly greased 9-inch springform pan; prick with a fork.
Bake in a preheated oven 375 degree oven for 10 – 15 minutes until light golden brown.
Remove from oven; reduce oven to 325 degrees.
Filling Directions:
Mix the cream cheese, brown sugar, vanilla and salt at low speed until smooth, scraping the bottom and sides of the bowl. Add eggs one at a time scraping the bowl between additions. Stir in the caramel sauce, cream and apples.
Pour the filling into the crust and bake for 40 minutes. Reduce the heat to 300 degrees and bake 15 minutes more until the edges of the cake are set.
Turn off the oven, crack the door and let the cake cool in the oven for 1 hour. Then cool for 1 hour at room temperature. Refrigerate for 8 hours or overnight. Place cheesecake on a plate & remove sides.
Topping Directions:
In a large bowl, toss apples with lemon juice; set aside.
In a large pan over medium heat, combine sugar, cornstarch, cinnamon, salt and nutmeg. Add water; bring to a boil. Boil for 2 minutes, stirring constantly. Add apples; return to a boil. Reduce heat; cover and simmer until the apples are tender, about 6 – 8 minutes. Cool.
Spread mixture over cheese cake; drizzle with caramel sauce and sprinkle with nuts.
Recipe courtesy of the Michigan Apple Council.
You may also like
Flour-Less Avocado and Banana Pancakes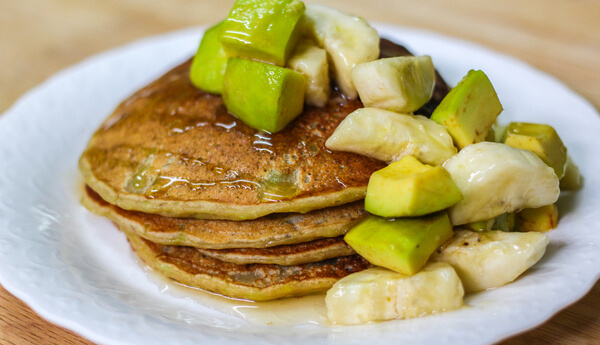 Sweet Potato Pancakes with Balsamic Maple Mushrooms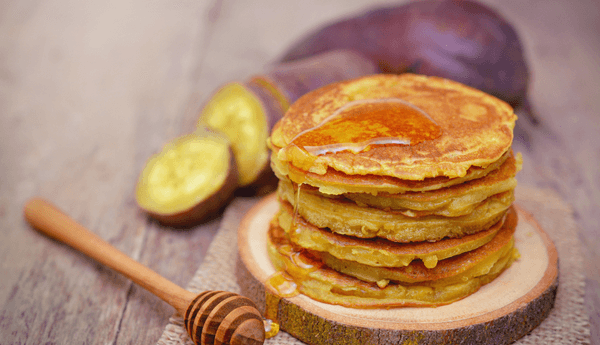 Chocolate Avocado Cupcakes