Chef Fred's Cream of Broccoli Soup
Ingredients:
5 lbs broccoli
1 small onion, diced
8 stalks celery, diced
3 cloves garlic, chopped
2 medium gold potatoes, peeled and chopped
8 oz fresh spinach
8 oz butter
1 quart heavy whipping cream
4 quarts chicken stock
salt and pepper
Instructions:
Separate broccoli florets and stems.
Blanch and shock florets (add to boiling water, when water comes back to a boil,
remove immediately and put into an ice bath). *Shocking the broccoli activates the
chlorophyll in the plant, which makes the soup nice and bright green.
Chop broccoli stems to similar size as celery and onion.
In a stock or soup pot, melt butter.
Sweat celery, onion, garlic, and broccoli stems until onions are translucent.
Add potatoes, stock and cream.
Simmer until vegetables are tender.
Remove from heat and add ¾ of the broccoli florets and spinach.
Use an immersion or regular blender to puree. Be careful, this is going to be hot.
Add back to pot and simmer.
Add the remaining broccoli and season with salt and pepper to taste.
You may also like
Broccoli Summer Salad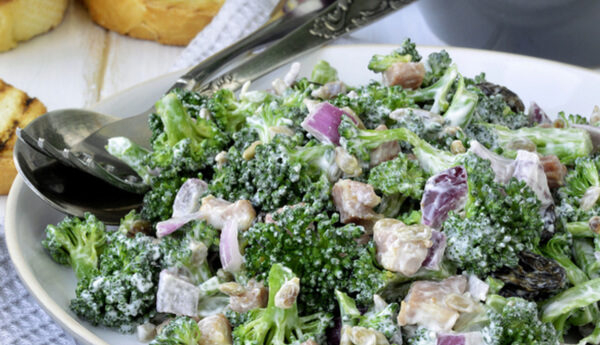 Roasted Broccoli Italiano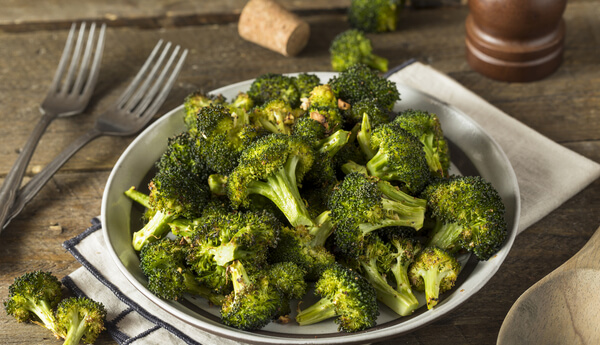 Broccoli Penne Pasta