Easy Rhubarb Crisp
Ingredients:
1 pound rhubarb (chopped into 1 inch pieces)
2 sweet red apples (such as Rome or Gala, peeled, cored and sliced)
1/2 cup orange juice
1 tsp ground cinnamon
3 tbs Splenda®
1 cup plain bread crumbs
2 tbs brown sugar
1 tbs olive oil
Instructions:
Preheat broiler.
In a large saucepan, combine rhubarb, apples, orange juice, cinnamon and 3 tablespoon Splenda®.
Cover and cook over MEDIUM heat for 5 to 10 minutes, or until the rhubarb is just tender.
Taste the mixture and add more Splenda® if desired.
Meanwhile, in a medium bowl, combine bread crumbs, olive oil and brown sugar (2 tablespoons).
Mix well to combine.
Spread mixture on a foil-lined baking sheet and broil until lightly toasted, about 3 minutes.
Spoon half of the bread crumb mixture into the bottom of a shallow serving dish.
Cover with the warm fruit mixture and top with remaining crumb mixture.
Serve warm.
Each serving provides: An excellent source of vitamin C and a good source of calcium, potassium, and fiber.

Recipe courtesy of FruitsAndVeggiesMoreMatters.org.
You may also like
Apple Crisp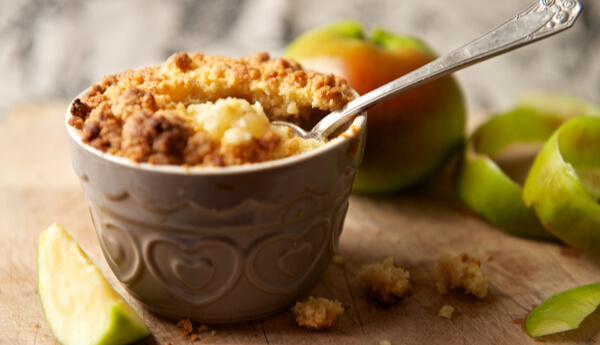 Pure Bliss Apple Ginger Scones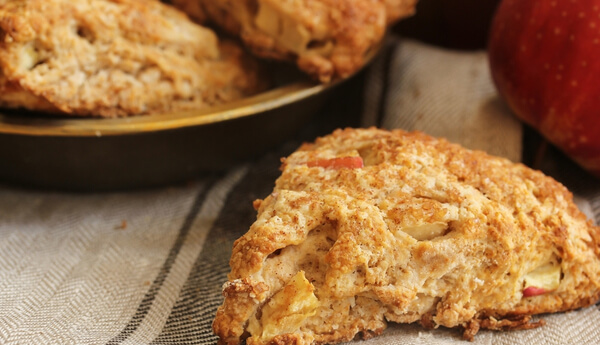 Blackberry Lime Scones