Pure Bliss Apple Ginger Scones
Ingredients:
2 cups flour
1/3 cup sugar
3 tsp baking powder
1/2 tsp salt
6 tbs cold butter
2 Gala apples, peeled and finely chopped
1/4 cup candied ginger, chopped
1 egg
1/2 cup heavy cream
1 1/2 tsp lemon zest
Glaze:
3/4 cup powdered sugar
2 tbs lemon juice
Instructions:
Preheat oven to 400 degrees.
Line a baking sheet with parchment paper.
In a large mixing bowl combine flour, sugar, baking powder and salt.
Using a cheese grater, grate the cold butter into the flour mixture. Stir.
Add chopped Gala apples and candied ginger.
In a small bowl mix together the egg, cream and lemon zest. Gently mix into apple mixture. Stir until dough forms.
Knead dough 6 times.
Place on parchment paper, form into an 8 inch round. About 1 inch thick. Cut into 8 wedges; separate slightly.
Bake for approximately 15 minutes until just lightly golden. Cool slightly.
Combine glaze ingredients, drizzle over scones.
Recipe courtesy of the Michigan Apple Council.
You may also like
Blackberry Lime Scones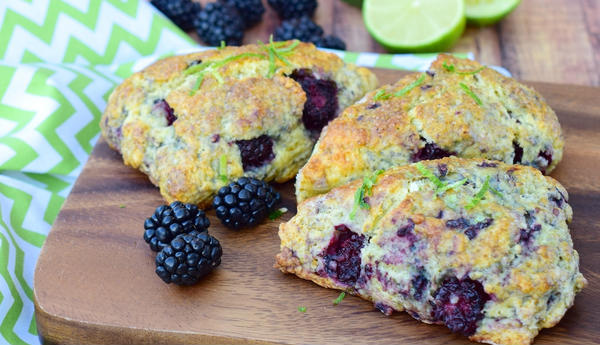 Lady Apple Scones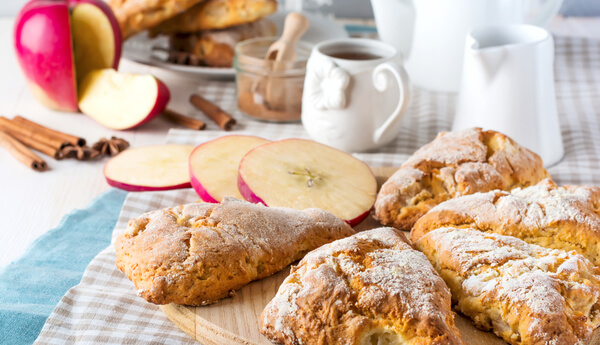 Apricot Crumble Pie