Lady Apple Scones
Ingredients:
1 1/4 cups all-purpose flour
4 tbs brown sugar, firmly packed, divided
1/4 tsp salt
1/4 tsp baking soda
1 tsp baking powder
1/4 cup margarine
1 cup finely chopped, peeled Michigan Apples
1/4 cup light sour cream
1 egg
1/3 cup chopped pecans
1 tbs light sour cream
1/4 teaspoon cinnamon
Instructions:
In large mixing bowl, combine flour, 3 tablespoons sugar, salt, soda and baking powder. Using pastry blender, cut in margarine until mixture resembles coarse crumbs. Add apples, 1/4 cup sour cream, egg and pecans, mixing until combined. On floured surface, lightly knead 5 times.
Place on cookie sheet lightly coated with no-stick cooking spray. With floured hands, press into 8-inch circle. Cut circle into 8 wedges with floured sharp knife. Do not separate wedges. Brush top of dough with remaining 1 tablespoon sour cream and sprinkle with mixture of remaining 1 tablespoon sugar and cinnamon.
Bake in 400°F. oven about 15 minutes or until golden brown. Serve warm.
Recipe courtesy of the Michigan Apple Council.
You may also like
Pure Bliss Apple Ginger Scones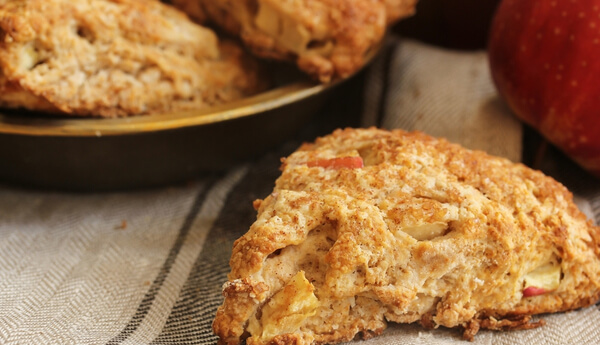 Blackberry Lime Scones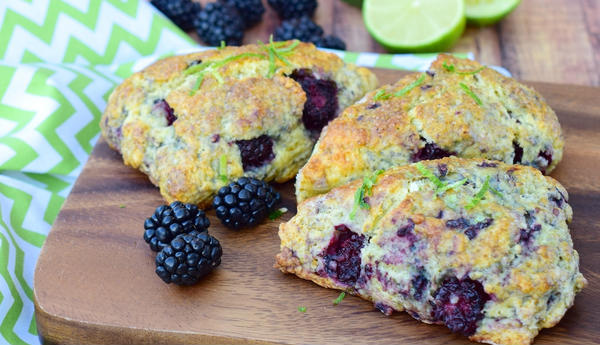 Apple Crisp