Huckleberry Gold Gratin
Ingredients:
Bright purple on the outside, golden yellow on the inside, Huckleberry Golds have a rich buttery flavor and make perfect mashed or smashed potatoes and can be boiled, baked or fried. Try this twist on a family favorite.

3 lbs Huckleberry Gold potatoes
2 tbs unsalted butter, softened
1 medium garlic clove, crushed
1 ½ - 2 cups half & half or milk
1/3 to ½ cup heavy cream
¼ cup Parmesan cheese
salt, pepper and nutmeg to taste
Instructions:
Preheat oven to 350.
In a saucepan, bring the half & half (or milk) and garlic to a simmer, season with salt and pepper, set aside.
Wash and slice potatoes into rounds, 1/8 inch thick. (Tip: use a mandolin for the most uniform size slicing.) Optional: because these potatoes are so striking with their yellow inside and purple outside, you can leave the skins on!
Butter the inside of a 9x12 inch baking dish and rub with half of the crushed garlic. Arrange potatoes in one layer at the bottom of the dish and season with salt, pepper and nutmeg. Repeat two more layers of potatoes. Pour in the half & half (or milk) mixture so that it comes up to just a little below the top layer of potatoes. Cover dish with foil, place on a larger baking sheet (to catch any drippings) and bake for about 45 minutes, or when potatoes feel tender when pierced with a knife.
Remove foil and raise oven temperature to 425 and bake for another 10 minutes. Add heavy cream and sprinkle top with cheese, bake for an additional 10-15 minutes, until the top is brown and bubbly. Remove from oven and let stand for 10 minutes before serving.


You may also like
Simple Oven Roasted Potatoes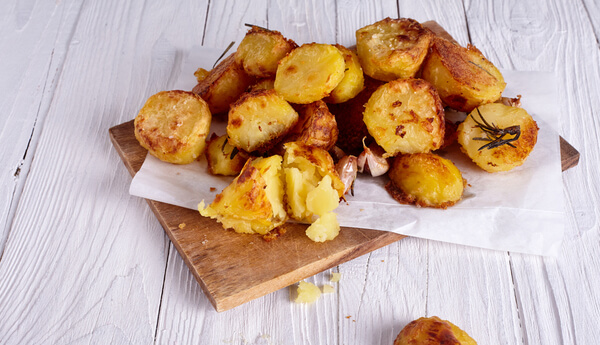 Warm Potato Salad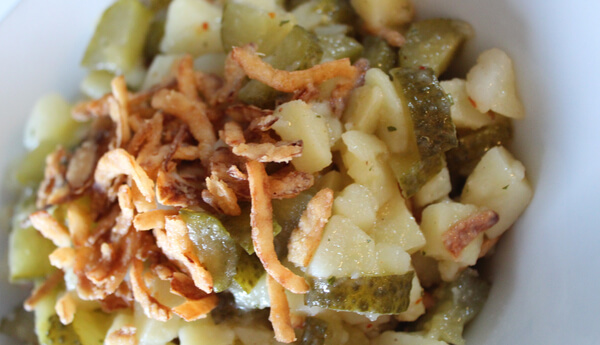 Cheesy Fried Mashed Potato Croquettes