Slow Cooker Apple Barbecue Meatballs
Ingredients:
1 cup applesauce
1 cup barbecue sauce
1 egg
1 Michigan apple, finely chopped
1 pound ground beef
1/2 cup Italian breadcrumbs
1/2 tsp garlic powder
1/2 tsp ground black pepper
1/2 tsp kosher salt
pinch red pepper flakes
chopped fresh parsley, for garnish (optional)
Instructions:
1. In bowl of 3-quart slow cooker, stir together applesauce and barbecue sauce.
2. Place egg in large mixing bowl and whisk until smooth. Add apple, beef, breadcrumbs, garlic powder, black pepper, salt and red pepper flakes. Mix with hands until just combined. Do not over mix. Using hands, gently form mixture into meatballs just smaller than golf balls.
3. Place meatballs in bowl of slow cooker and gently stir to cover meatballs with sauce. Cover and cook on high for 2 to 2-1/2 hours or until meatballs are cooked through. Stir mixture well, then transfer to platter and serve garnished with parsley, if desired.

Recipe courtesy of the Michigan Apple Council.
You may also like
Jackfruit Meat-less Balls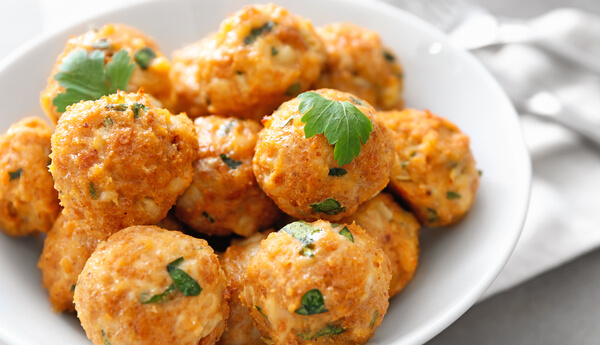 Peach Steak Sauce
Grilled Cobb Salad Boats